Shavkat Mirziyoyev invited French companies to invest in Uzbekistan projects
---
08.10.2018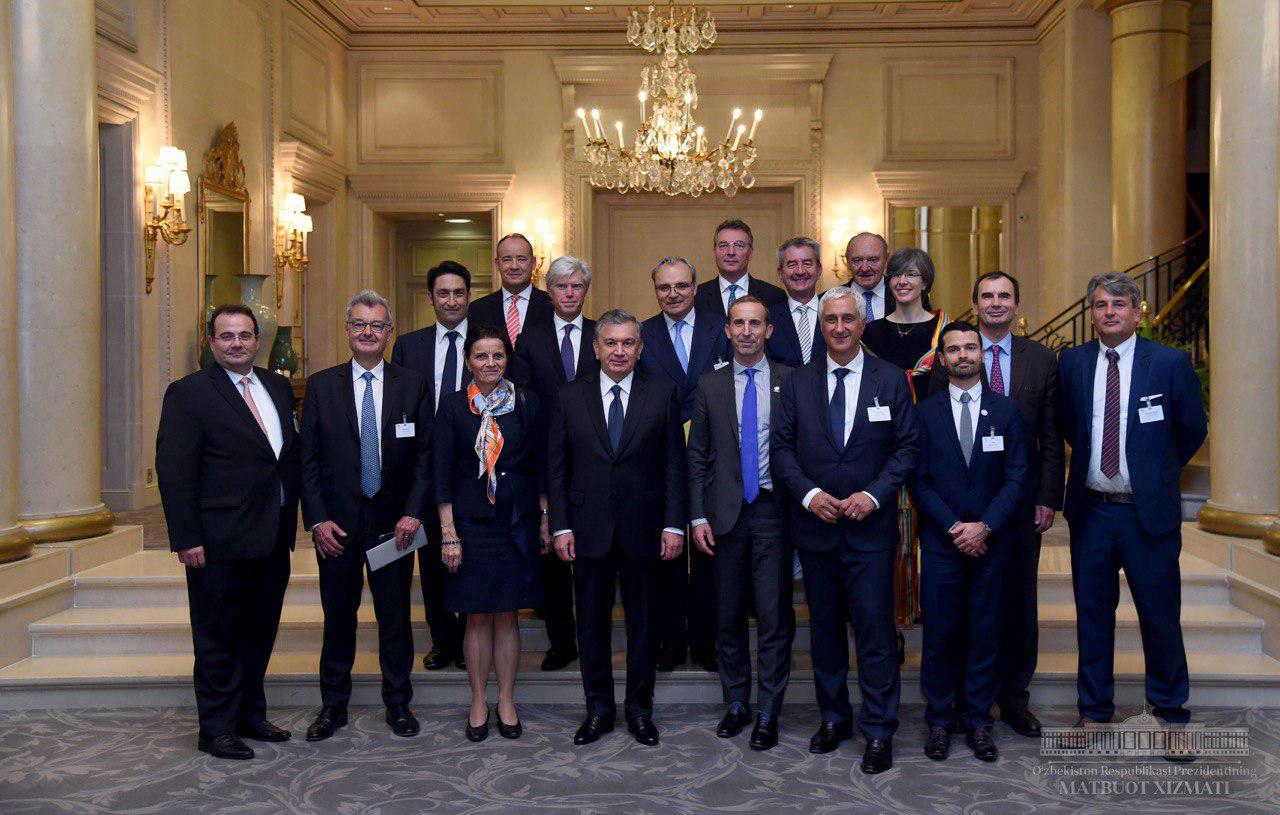 The President of the Republic of Uzbekistan Shavkat Mirziyoyev held a meeting with managers of major French companies.
It was attended by the heads of leading companies of the European and world markets, financial structures such as Total, Total Eren, Orano, Fives Stein, Rungis Semmaris, Vinci, Suez, SAD, Idemia, Mercier, Thales Alenia Space, European Bank for Reconstruction and Development, French Development Agency and others.
At the meeting it was noted that in Uzbekistan wide opportunities are being created for foreign investors. Necessary normative-legal acts for stimulating and protecting their activities are adopted. Various obstacles to business development have been eliminated, foreign trade and customs tariff control have been significantly reduced.
Shavkat Mirziyoyev noted that for a direct dialogue with foreign investors, it was decided to establish the Council on Foreign Investments under the President of the Republic of Uzbekistan. Its task is to develop proposals for continuous improvement of the investment climate in Uzbekistan, taking into account the opinions of investors themselves. The President of Uzbekistan invited French investors to actively participate in the activities of the Council.
French businessmen highly appreciated the economic reforms carried out in Uzbekistan under the leadership of Shavkat Mirziyoyev, emphasized that liberalization of the monetary system, simplification of the procedure for obtaining a visa created favorable opportunities for development of mutually beneficial cooperation. This has increased the interest in partnership with Uzbekistan. Evidence of this became the signing on the eve of this visit of agreements on investment projects worth about 5 billion euros.
Issues of further development of partnership between financial organizations and companies of Uzbekistan and France, expansion of mutual deliveries of goods and provision of services were discussed.
The official visit of the President of the Republic of Uzbekistan to the French Republic continues.