A nation that turned the time into opportunity, the opportunity into success, and the success into the foundation of development is a great nation
---
31.08.2023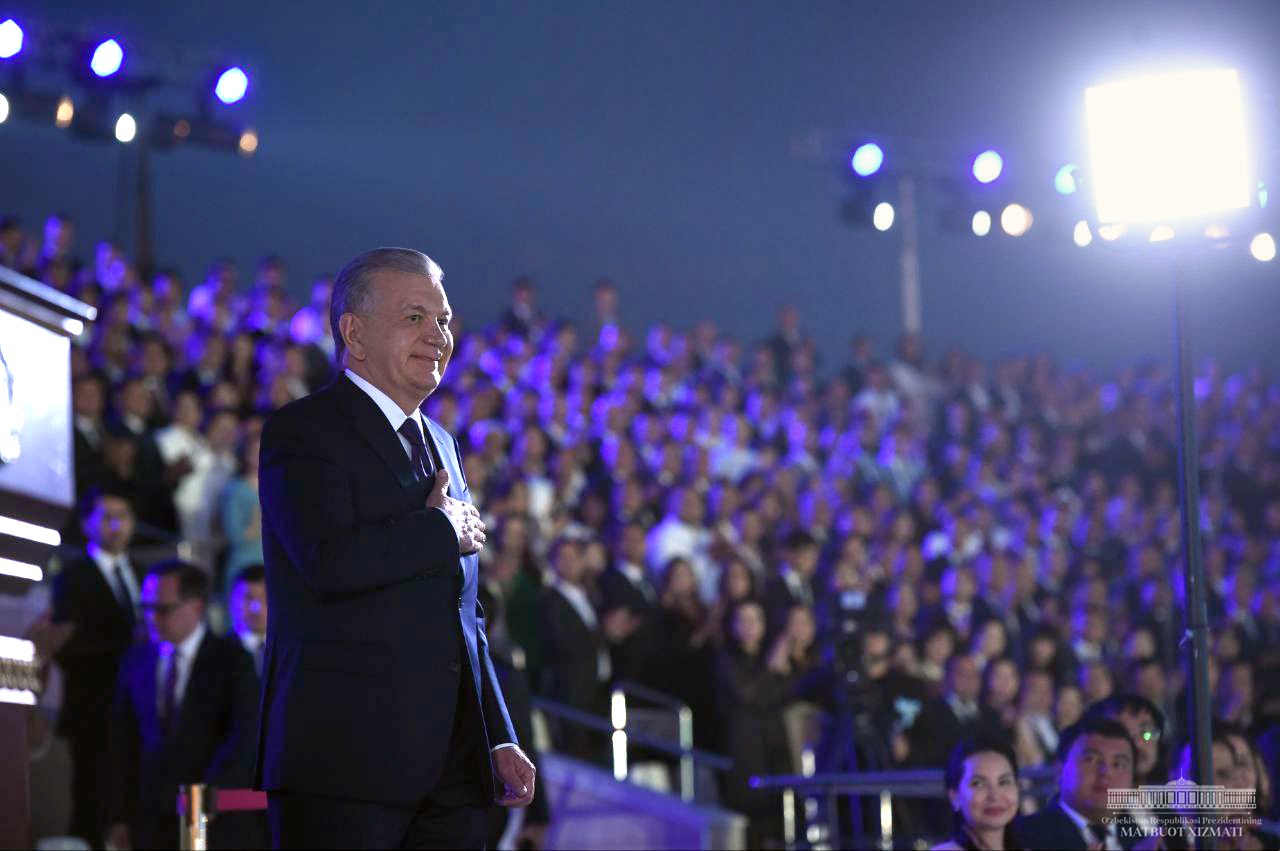 Address
by the President of the Republic of Uzbekistan
Shavkat Mirziyoyev at the ceremony dedicated to
the 32nd anniversary of Independence of
the Republic of Uzbekistan
Dear compatriots!
Dear veterans and youth!
Dear guests!
Thirty-two years ago, Uzbekistan proclaimed its independence. Over the past period, we have gone a long way together, we have overcome a lot of difficulties and trials.
In a metaphorical sense, a child born thirty-two years ago has already formed a personality with an independent opinion and mindset, with his/her own dreams, aspirations and goals.
In the same way, today's Uzbekistan, having been hardened by the trials of the journey and having gained the necessary experience, has become a sovereign state with its own specific goals, course and position.
This is a historic achievement of our entire nation, and each of you has made a worthy contribution to it.
Dear fellows, your daily work filled with love and devotion to the Motherland serves to further consolidation of Independence of Uzbekistan.
In this sense, it will be true to say that the Independence Day is our common holiday, and independent Uzbekistan is our common pride and honor.
In these exciting moments, I sincerely congratulate with all my heart on today's great holiday the respected teachers and mentors, who remain devoted to their profession under all conditions and teach the fundamentals of knowledge and science to our younger generation, the selfless doctors, who dedicate themselves to serving for the health of the people, the skillful dekhkans and farmers, who work tirelessly in the fields and ensure abundance in the country, the courageous soldiers who are the shield of our Homeland, the entrepreneurs who are active and proactive in the development of the economy, increasing the welfare of the population, energetic and purposeful young people, who delight us with their first successes, cherished women, who strengthen family with their warm hearts and high human values, honorable fathers and mothers, who have blessed us in all our endeavors and have prayed to the Almighty for strength and support, dear compatriots, who live with love for the Motherland wherever they may be in the world, in one word, all our 36 million citizens.
Congratulations to all of you on Independence Day!
Dear friends!
Indeed, Uzbekistan's sovereign and independent statehood has not come easy.
Over the past century and a half, the political and educational aspirations of our ancestors in this direction have been gaining momentum. Many patriots who fought for the freedom of the Motherland, the heroes of the nation who strived for its independence, were repressed and became victims of violence and lawlessness.
We have set ourselves the goal of restoring the honest names of our compatriots who have died under false charges and without realizing their dream of freedom for their native country.
Over the past three years, the Supreme Court has rehabilitated 856 victims of political repression. We will certainly continue this noble work. Justice must prevail.
In retrospect, we have to admit the bitter truth: previously, the word "Uzbek" was associated only with those who worked day and night in the cotton fields.
Unfortunately, that was the case then. The cotton monopoly has become a yoke for our people. The cotton policy dried up the Aral Sea, led to the crisis of our ecosystem, disrupted our economy and education system.
As a result, several generations have not received a full education. We are still struggling with these consequences.
Today, the principles of market economy have been introduced in cotton growing, and the sector has its owner. As a result, the teacher has returned to school, the doctor to the hospital, entrepreneurs have been freed from the cotton burden, forced and child labor has been eradicated, and Uzbekistan has been excluded from international blacklists.
Thanks to our people's selfless work and determination, the dream of a New Uzbekistan is becoming a reality.
The respect and attention to our Motherland are growing in the international arena.
One of my first steps as President was the establishment of friendly relations with neighboring countries. The problems that have accumulated over the years have been resolved. Our relations with the states of Central Asia in all spheres have now been raised to a new level.
Dear compatriots!
It's not a secret for anyone that the basis of political independence is, first of all, economic independence.
A solid foundation for its strengthening is the large-scale work carried out by us in recent years and the results achieved. A clear confirmation is that over the past six years, the gross domestic product in the country has increased by more than 1.5 times, the number of business entities has doubled, industrial growth has exceeded 40 percent.
In a short time, we have more than halved poverty.
Nevertheless, our benchmark is not to compare today with the past, but rather with the future, and therefore should organize our work around this. After all, the future begins with the steps we take now.
Dear friends!
We consider the wise words of great thinkers as a guide to action for ourselves: "The task of the state is to make people's lives happier, and this is achieved by knowledge and high morality."
As you know, a year ago we identified 5 main directions for the development of the country. The development of the education sector is enshrined as a top priority.
It is no coincidence that I always emphasize the importance of education and the role of the teacher. Without modern education, we cannot achieve accelerated progress. Education is undoubtedly both the solution to any problem and an important factor in our tomorrow.
In 2022, 72 new schools were built in the country, 279 schools were overhauled and 514 schools were reconstructed. More than 30,000 computers have been purchased for schools.
Starting from the new academic year, lessons in the schools of the republic will be conducted by 500 additional specialists in the field of the English language invited from abroad. Primary school students will study according to new programs and textbooks developed on the basis of advanced foreign experience.
Major projects have also been launched to develop healthcare, business, improve the judicial system, and solve water and fuel and energy problems.
I would like to reiterate that the priority areas we have identified will remain the focus of our attention at all times.
Dear participants of the ceremony!
The three-thousand-year history of our statehood proves that our ancestors have always made great contributions to the development of world civilization not only through physical work, but also through intellectual activity.
We are the descendants of great ancestors who have enriched the world not only with material resources, above all they left the world a rich legacy of scientific, enlightenment and spiritual values.
There is no doubt that the high qualities inherent in them and the glorious traditions they created are still alive in our hearts, in our minds and in our daily lives.
I am convinced that we are capable of continuing this historical path with dignity.
This is what our role and our place on the world stage, the lofty goals and milestones that we have set for ourselves, demand of us today.
In addition to the transport and logistics system, we are giving priority to the accelerated development of science, innovation, information technology and other areas based on intellectual activity - as time demands.
It is these areas that will become the drivers of Uzbekistan's economy in the near future.
Dear friends!
Another important issue is ecological problems and water shortage related to them. On the one hand, there is the need to develop construction, industry and agriculture. On the other hand, the topical issues for each of us are water conservation, prevention of pollution and rational use of land resources.
Our task is to maintain the balance of both directions.
We must never forget that natural resources are the wealth of future generations. We must therefore use them wisely, with an eye to tomorrow as well as today.
In this direction, accelerating the transition to an economy based on the prudent management of water, energy and other natural resources is essential. It is also important for us to create green and digital technologies and innovative manufacturing companies.
Dear compatriots!
The updated Constitution clearly defines that Uzbekistan is a secular state, a country where different cultures harmoniously unite. This is our strength and we must protect it. As the history shows, people of different beliefs, religions and cultures have lived together in our country for centuries.
We are a nation that chooses the path of peace rather than war in resolving any conflicts. We have always lived in harmony, friendship, and cooperation with all people. And, on today's path of development, we also rely on these principles.
Above all, we need a strong civil society, since any reform should first start in the hearts and minds of each of us.
We must live by conscience, in accordance with just laws, and we must move forward confidently and unitedly for the future of the country.
Today, when we talk about the formation of a developed civil society, it is impossible to imagine it without freedom of speech and the press. All over the world, journalists have fought and will continue to fight for the truth, for the right to speak and write on topics that concern and make them and society as a whole think. In this regard, I can firmly say that I have always been on the side of free-thinking journalists and will always adhere to this position.
At the same time, credibility and objectivity should be the main criteria in the information space.
Dear participants of this solemn event!
To quote the words of our great ancestor, educator Abdurauf Fitrat, «women are the mothers of the nation». In order to raise a worthy new generation, they themselves must be highly educated.
Therefore, the creation of equal opportunities for women in all spheres of society is another of our important tasks.
Over the past period, we have carried out significant work on enhancing the role and status of women in society, ensuring their rights and interests, and ensuring their professional development. However, we still have a lot to do on this path.
As it is known, in addition to their professional duties, our esteemed women fulfill such important tasks as raising children, creating a healthy atmosphere in the family, and continuing spiritual and moral traditions. Thus, our caring women need comprehensive support.
This year, we adopted a law on the prevention of domestic violence. Its goal is to strengthen families and protect women's rights.
We will gradually continue our work in this direction.
Dear compatriots!
Every citizen of Uzbekistan should consider ensuring the unity of our people and the integrity of the country as his or her vital duty.
If we stand together, we are a single people; if we unite, we are a strong country!
Dear compatriots!
As you know, in the last five or six years, humankind has faced such challenges comparable to those of the last hundred years.
The pandemic, natural disasters, earthquakes, armed conflicts, global warming, droughts—all these have subjected and continue to subject humanity to serious trials.
Such a challenging situation can be compared to the strongest hurricane.
As a result of such catastrophes, even the mightiest trees can be affected: leaves can fall off, limbs can break, swollen buds and fruits can fall off.
However, those trees with strong and deep roots will withstand the ordeal. Their roots will anchor even stronger to the soil. Growths, buds, and fruits will arise on their branches. This is the law of life.
Our nation possesses ancient and powerful roots. These are our history, values, traditions, and customs—our national identity.
In these deep roots, I see the great idea of national unity, which is bringing the country together.
Speaking about our primary duties, I shall emphasize that we will direct our attention to increasing the potential of our Armed Forces, which are a solid guarantee of ensuring the independence of the Homeland and the peaceful lives of the people, as well as creating even more decent conditions for servicemen and their families.
We will elevate to a new level the relations of friendship and mutually beneficial cooperation with the countries of the near and far abroad, particularly with neighboring countries, international and regional organizations. In this sense, we need to note the merits of both our and foreign diplomats.
Taking this opportunity, I would like to sincerely welcome the distinguished ambassadors of foreign states and representatives of international organizations participating in today's celebration and wish peace and prosperity to their countries and peoples.
Dear compatriots!
I want you to know that all our actions and aspirations are for the prosperity of the country, for the well-being of our people, for your welfare, my dear fellows!
No matter how important or complex the tasks we have set for ourselves today, together we have enough strength and opportunities to fulfill them.
We are not the same as we were yesterday.
Our people are not what we used to be.
As history confirms, a nation that turned the time into opportunity, the opportunity into success, and the success into the foundation of development is a great nation.
Today, such qualities are displayed by our hardworking, courageous and noble people.
I would like to take this opportunity to express my sincere gratitude to all our compatriots, to all our people, who are working selflessly on the path of building a New Uzbekistan.
I once again extend my sincere and heartfelt congratulations to all of you, my dear people, on this great holiday - the 32nd anniversary of the Independence of the Republic of Uzbekistan,.
I wish all of you a sound health, happiness and prosperity for your families.
Long live our people! Long live the creator of all our achievements!
May peace and tranquility always reign in our beautiful country!
May the Almighty always protect our Motherland!
May our independence be eternal!