A Congratulatory Message by the President of the Republic of Uzbekistan Shavkat Mirziyoyev on the National Holiday of Navruz   
---
21.03.2023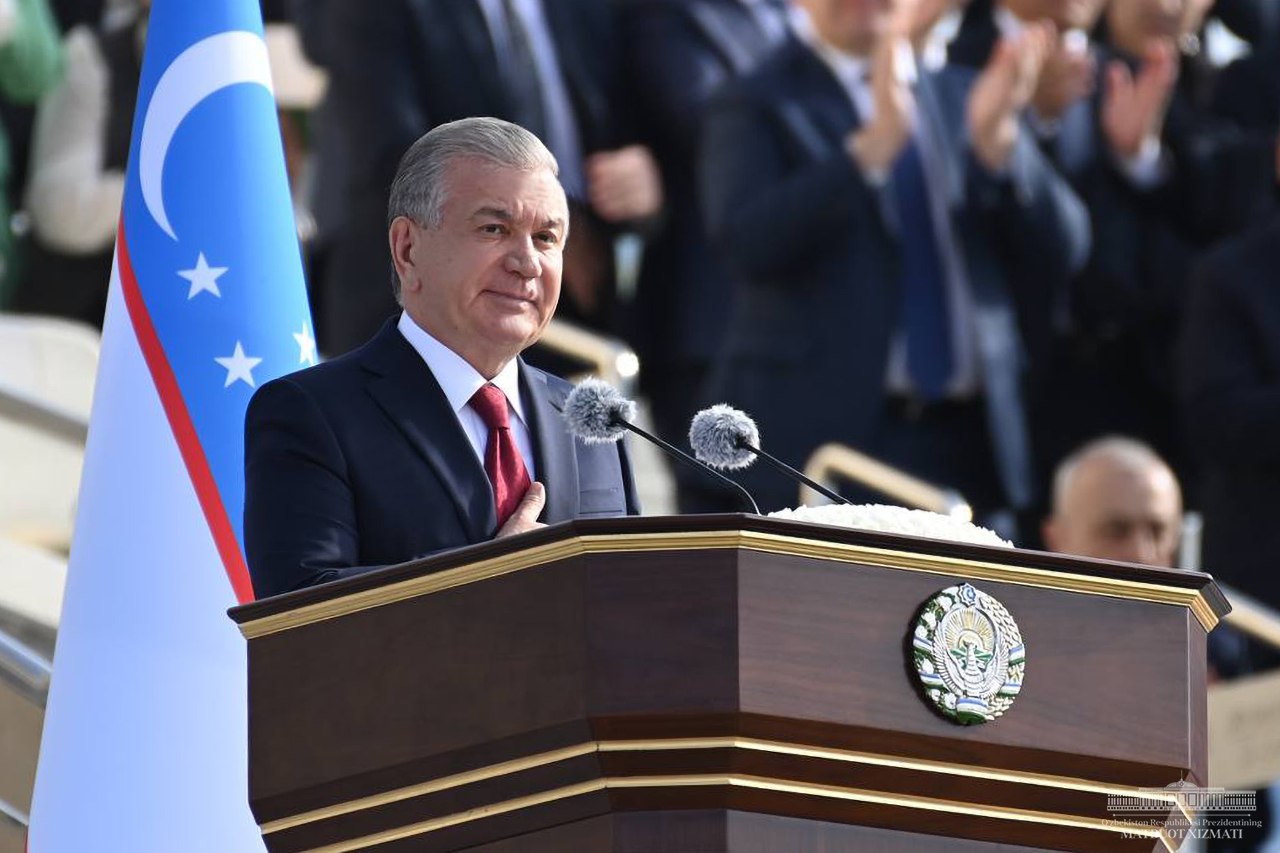 Dear compatriots!
Distinguished guests!
On this wonderful day, standing with you in the magnificent «New Uzbekistan» Park, I sincerely congratulate you and our multinational people on the great Navruz holiday.
Today, everywhere in our country, in oases and valleys, cities and towns, parks and squares, the folk festivals – «sayils» are taking place with a great joy.
At these exciting moments, as our hearts fill with joy, I warmly congratulate all our compatriots, youth and elders, and express my deepest respect and best wishes to all of you.
Happy Eastern New Year!
May Navruz bring happiness and well-being!
Dear friends!
Today, Navruz, the holiday of nature's rebirth, renewal, kindness and mercifulness arrives in our beloved country.
Our fields and gardens are enjoying abundant rains, hailing the coming bountiful harvest and abundance.
We express our gratitude to the Creator for once again having reached such a bright holiday with our country, where everyone deeply realizes that he or she is an inseparable part of nature.
Dear participants of the event!
Today, all of us are selflessly working to build in a New Uzbekistan, a society and state where people live freely and prosperously.
Building a New Uzbekistan is a firm determination and the essence of life of our great nation of 36 million people. This noble goal is interconnected and in harmony with the philosophy and values of Navruz.
Honoring the human dignity, ensuring the rights and legitimate interests of every citizen, creating decent conditions for residents of all cities and districts, remote and distant areas, simply speaking, serving to our people - this is our main goal.
On this noble path, we will vigorously pursue our ambitious programs in the areas of comprehensive development of our economy and social sphere, science, education, healthcare, culture and art, healthy lifestyle and sports, as well as nature conservation.
We draw energy and strength from our honorable fathers and mothers, esteemed veterans, their experience, wisdom, and blessings in making our lives more colorful and prosperous.
The selfless work of our people, their support for the course of reforms is our foundation in bringing the national development to a new, higher level.
On this remarkable day, I extend my sincere appreciation to each and every one of you for your meritorious services to the development of our country.
I am confident that you, showing high political wisdom, will take the most active part in the upcoming important political event and will contribute to the establishment of a firm legal basis for consolidating present results and resolute continuation of our reforms.
At these unique moments, we extend our best wishes to our hardworking dekhkans and farmers who, valuing every day and every hour of the harvest, head out to their fields.
We cordially welcome all the young men and women, the creators of the New Uzbekistan, who are joining our ranks today with great hopes and dreams, and we wish them all happiness and success.
I would like to underscore once again that we will always create all the possibilities and conditions for our healthy, comprehensively developed, educated and active young people to achieve the highest goals.
We are all immensely happy to see that our dear young people are achieving great victories justifying our country's trust.
The other day, Uzbekistan's youth football team showed their will and abilities in a tense competition and won the prestigious title of Asian Champion. At the same time, they have also qualified for the World Cup in Indonesia.
Along with this, Uzbekistan's U-18 hockey team has also won the Asian Championship, leaving behind all its opponents. Undoubtedly, for the first time in the sports history of our country to achieve such a high result, our hockey players merit special recognition. A particularly talented striker of our team, Jasurbek Rustamkhonov, who has scored 14 goals during the competition and become a true hero of the championship.
Moreover, the young chess players of our country glorify Uzbekistan to the whole world with their high intellectual potential.
In particular, I would like to note that our talented chess player Nilufar Yokubboyeva took a remarkable second place at the recently held international tournament «Woman's Chess Championship 2023» in Tashkent, leaving behind more than 100 foreign participants.
Along with such promising achievements, our ambitious young people have once again demonstrated how much our country's youth is capable of achieving big accomplishments.
They make such considerable progresses in science, culture, art and literature as well.
In this regard, I sincerely congratulate our young champions and winners, their mentors and coaches, their parents, all fans of sports and all our people.
Undoubtedly, these remarkable victories of young people became wonderful gifts to all of us for the Navruz holiday.
Indeed, such victories further enhance the prestige of the New Uzbekistan.
The New Uzbekistan needs such young people, willing to commit high deeds serving the name of the Homeland, who will stand as an exemplary model for millions of their fellow contemporaries.
Our people and our country are rightfully proud of such young people, who are worthy successors of our great ancestors, who once amazed the world.
Thank you very much, my dear children!
May there always be new successes and triumphs in all your paths of life!
Dear compatriots!
We are all well aware of the quotes by our great poet and thinker Alisher Navoiy, addressed to all the people, to us, his generations – «Let every day be as Navruz!».
In following this wise precept, we should perform noble deeds inherent in our people, such as esteem for the elderly, respect for the young, support those in need, not only during Navruz holiday, but every day.
Today, in Uzbekistan we are creating a social and truly people's state, where kindness and compassion, generosity, mutual respect and harmony will be the norm of life. To this end, I encourage all of you, primarily all the leaders and government officials, to act even more effectively.
We must ensure that every person in our country, which for centuries has been famed for its spiritual values and humanism, feels the full attention and care of the people and the state.
Dear friends!
This year's Navruz comes at a special time, followed by a number of significant dates and events.
In these days, we are on the eve of the holy month of Ramadan. Taking this opportunity, I would like to sincerely congratulate Muslims of the country and the entire Islamic ummah of the world.
May the Almighty bestow His blessings upon us for all the good deeds we do during this holy month, and may our pure intentions be fulfilled.
I would also like to congratulate all of you on the Day of Makhalla Workers, which will be marked in the country tomorrow.
We greatly appreciate the fact that during the years of independence, Navruz has become a holiday of friendship and grace, bringing together representatives of all nationalities and ethnicities of our country into a unified and stable family.
We will always cherish this unique and priceless treasure as the apple of our eye.
The fact that March 21, as a bridge for peace and tolerance, is widely celebrated by the United Nations as the International Day of Navruz certainly brings joy to all of us.
We take this opportunity to sincerely extend our warmest greetings and best wishes to the distinguished ambassadors of foreign countries and representatives of international organizations who are participating in our celebration today, and we convey to their countries and peoples our heartfelt greetings and regards.
My dear and distinguished compatriots!
I once again congratulate all of you, all our people on the national holiday of Navruz.
May the early spring bring peace, prosperity and happiness to every family, every region, and our land!
May the Creator help us in all our good deeds!
May peace reign in our land, may our people be happy!
Happy Navruz holiday to all!