President Shavkat Mirziyoyev's festive greeting to representatives of Uzbekistan's healthcare system
---
07.11.2020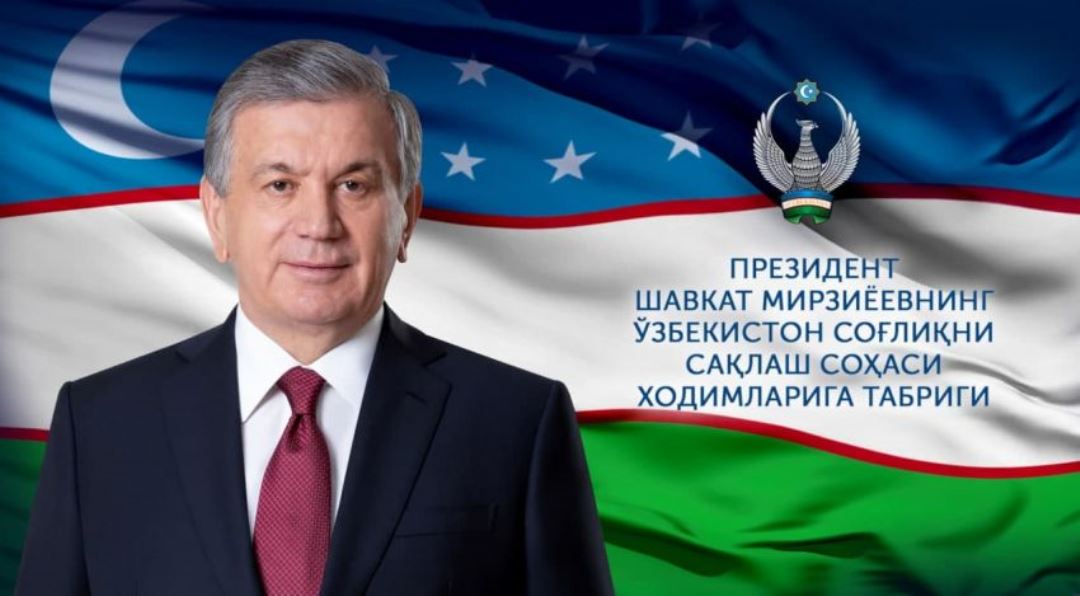 Dear friends!
I sincerely congratulate you – those who have dedicated their lives to such a responsible and honorable cause as protecting the people's health – on your professional holiday, the Medical Workers Day, and express my deep respect and the best of wishes.
Our people see you as representatives of the noblest profession in the world, as individuals genuinely selfless, true to their sacred oath, and we greatly appreciate your hard work.
Deserving the highest acknowledgement, you are the real safeguards of the nation's health, especially in the current complicated circumstances underlined by the coronavirus pandemic. Surely, your merit in healing thousands of our compatriots from such a dangerous disease is incomparable indeed.
Taking this opportunity, on behalf of all our people and on my own behalf, I express my deep gratitude to all healthcare workers who are at the forefront of this harsh struggle, putting their lives in danger and showing everyone a model of courage and resilience.
Esteemed healthcare professionals!
We have set ourselves an ambitious goal of promoting prosperous life, and on this path we attach paramount importance to the accelerated advancement of the healthcare system.
Over the past four years, together with you, we have undertaken a great deal of efforts in this direction. It is worth noting that during this period, about 200 normative acts were adopted in the field, including the Concept for the Development of the Healthcare System of the Republic of Uzbekistan.
The country is galvanizing the services of primary healthcare, emergency and urgent medical care, specialized services. Considerable achievements have been secured in the reduction of maternal and child mortality, early diagnosis of diseases, encouragement of healthy lifestyle in families, elevation in the medical culture of the population, and growth in life expectancy.
The year 2020 has become a year of unprecedented trial for Uzbekistan's healthcare system and simultaneously a time of steadfast development, acquisition of new experience.
14.8 trillion soums were allocated from the state budget for reforming the sphere – 1.2 times as much as in 2019, and 1.15 trillion soums were assigned to the sector under the Investment Program, which made it possible, despite the existing difficulties, to fulfill a tremendous amount of work. In particular, within a short span of time, treatment and prevention facilities, quarantine zones and distribution centers were built across the nation. In the Zangiata district of Tashkent region, a multifunctional specialized hospital for four thousand beds was erected.
One can stress that these timely measures have been yielding positive effects today.
In order to raise the quality and scale up the provision of medical care to women of reproductive age, pregnant women and children, modern medical centers have been created, to include the Second Perinatal Center in Tashkent and Children's National Medical Center equipped with cutting-edge technologies and capable of hosting more than 1,500 complex surgeries.
A new system of decent incentives has been introduced for healthcare workers, including growth in their wages and additional bonuses for doctors combating the pandemic.
This year, 798 family polyclinics have been opened in remote villages, as have social pharmacies, round-the-clock emergency medical centers, antenatal (maternity care) clinics, and health rooms for adolescent girls. In addition, thanks to the engagement of specialists in 5 areas – obstetrics and gynecology, surgery, dentistry, therapy, pediatrics – a system of qualified outpatient care for rural residents has been introduced.
Thanks to the endeavors in recent years designed to develop a network of specialized scientific and practical medical centers, their total number has reached 18, and 18 of their branches have also been established in regions. They host complex kidney and liver transplant surgeries, among others. Even centers in provinces have mastered open-heart cardiac operations.
Currently, there are 5,805 private medical institutions in the country, which contributes to the improvement in the quality of healthcare services and competition growth in the field. Today, over 70 of private clinics provide laboratory services for the detection of coronavirus infection, 25 are engaged in its diagnosis and treatment. One should note that the efforts to cement the private sector in healthcare fully justifies itself in the present thorny situation.
The number of medical facilities operating on the basis of public-private partnership has been growing, too. Quite suggestive of this is the fact that this year, we have delivered on 9 projects of public-private partnership and 187 outsourcing schemes for 51.4 billion soums.
As you may know, the Emergency Medical Care Development Fund has been set up and it has been instrumental in providing the Tashkent city ambulance station with 150 modern specialized Ford vehicles. Thus, the number of ambulance cars in our country has reached 2,514. Crucially, the quality of services is being consistently spurred up.
For the first time, a concept for the provision of hemodialysis services has been devised, and its implementation has now begun.
Another pressing issue is the realization of important projects designed to train highly qualified personnel for the healthcare sector. To this end, we took a vital decision in 2020 by increasing the quotas for admission to medical higher education institutions: by 27 percent for undergraduate programs, by 28 percent for graduate degrees and by 22 percent in clinical residency. We launched training in new majors.
Currently, in cooperation with universities of Germany, Italy, Russia, South Korea, Turkey, Belarus, Ukraine and other countries, joint educational programs are in progress to help our students master the specialities in demand.
Dear healthcare professionals!
To be sure, we all well understand that the results of our reforms in the healthcare system depend primarily on the dedicated work, skills and experience of our honorable doctors and nurses, as well as professors, teachers and researchers who pass the secrets of medical science on to the young people.
At a major video meeting that took place on the eve of Medical Workers Day, we outlined the most critical and urgent tasks in the development of the national healthcare system based on the requirements of the time, in the consolidation of its economic and technical base, early detection of diseases, reinforcement of preventive work, especially the widespread promotion of healthy lifestyle in society, introduction of digital technologies and innovative methods in the processes of diagnosis and treatment.
I feel convinced that you, the true heroes of our time courageously overcoming the present ordeals together with the entire nation, will prove active in furthering those important goals.
We will continue to focus on issues of deserved encouragement of your hard and noble work, of training qualified personnel, boosting the competitiveness of our country's healthcare sector, stepping up cooperation with the World Health Organization and foreign medical centers, and developing telemedicine.
Once again, I sincerely congratulate you on your professional holiday.
I wish you all a sound health, family happiness and wellbeing!
Shavkat Mirziyoyev,
President of the Republic of Uzbekistan